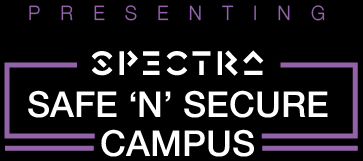 End-to-end education security solution for Internet, Network and Premises.
Why Spectra Safe 'n' Secure Campus?
You have some of the most brilliant minds. You have the best teaching staff. You have sprawling campuses. But do you have trained staff who can handle your cyber security needs?
Safe 'n' Secure Campus before anything else. Because we bring you an ultra-reliable, versatile, and comprehensive platform specifically designed for education. It helps secure the joy of learning before teaching lessons and creates a space for fearless thinking before asking them questions. It ensures physical safety and monitoring for students, provides cost-effective digital learning resources, rationalizes IT operations, while maintaining and demonstrating compliance. Because of the hybrid structure of today's education system, it also aids in the protection of BYOD devices and the blocking potential insider threats.
Let us know you better
before we secure your future.
What does Spectra Safe 'n' Secure Campus give you?

Academic policy and
strategy of cyber security

Network security audit
and incident handling

Video surveillance for
healthier and safer campus
Single pane of
glass management
Safe 'n' Secure Campus Packages include:
Connectivity + UTM with basic web filtering option/Managed Wi-Fi
There's no denying that the internet has a wealth of knowledge. Unfortunately, there are also predators, identity thieves and other online threats. From Phishing, Ransomware, Malware, Cyber-stalking/bulling, to inappropriate content, etc., the threats are many. Spectra not only gives you reliable Wi-Fi connectivity, but also a safe internet experience by identifying and mitigating unknown risks in advance and stopping threats from bypassing perimeter controls.
Here are a few used case scenarios:
Dual path connectivity for high uptime
Infra and user management
Auto-failover
URL/Web filtering
Proactive monitoring and 24x7 support
Managed Security with advanced features
When you have faculty, students and other staff accessing the same network, it needs to be secure and streamlined. Spectra's Safe 'n' Secure Campus offers your institution support by protecting critical digital information and assets from risks. We assist you with the deployment of a highly-effective firewall to secure network environment from malicious attacks by providing a single solution for alert detection, threat visibility, proactive hunting and threat response.
Here are a few used case scenarios:
Full suite network security
DDoS attack prevention
Protection against espionage of intellectual property
Safeguard against data theft
Security Reports
AI-based Video Analytics that transform raw CCTV data into real-time actionable insights
We understand that as an educational institution, you are tasked with the responsibility of providing a safe learning environment. Spectra's Safe 'n' Secure Campus offers you preventative measures and protocols that fit your institution's safety plan. We will help you strengthen your already existing physical security infrastructure by leveraging the power of AI-based Video Analytics. With our safe campus feature you will be able to keep an eye on every corner of your premises which would otherwise be humanly impossible.
Here are a few used case scenarios:
Crowd identification
Alert for unauthorized entry
CCTV tampering
Real time occupancy
Cleaning roster automation
Fire and smoke detection
Opt for Safe 'n' Secure Campus and get the Spectra Advantage:

Pay-as-you-grow

Save up to 70% cost

24x7 tech support

Centralized reporting

Single-source benefit

Reduction in TCO

Pan India presence
One door everyone trusts in
Check out how education institutions have benefited from our solution.
Results that speak for itself

At Bluebells, we believe that handheld devices such as tablets can make a big difference in how students approach and absorb new ideas. Spectra was lnstrumental In helping us reach our digital connectivity goals. We are now better poised to meet the expectations of new-age students than ever before!"

Ms Yasmeen
IT Head